U-M Taubman College of Architecture and Urban Planning
----------------------------------------------
Topology Design:
Mackenzie Bruce, Chris Humphrey
Computational Implementation: 
Ruxin Xie
Robotic Fabrication
:
Gabrielle Clune
, 
Ben Lawson, Sarah Nail, 
Mehdi Shirvani
----------------------------------------------
ARCH 708 Systems Engagement
Robotically Fabricated Structure (RFS), 
is one of twenty-nine projects longlisted for the Architecture Small Building category in this year's Dezeen Awards.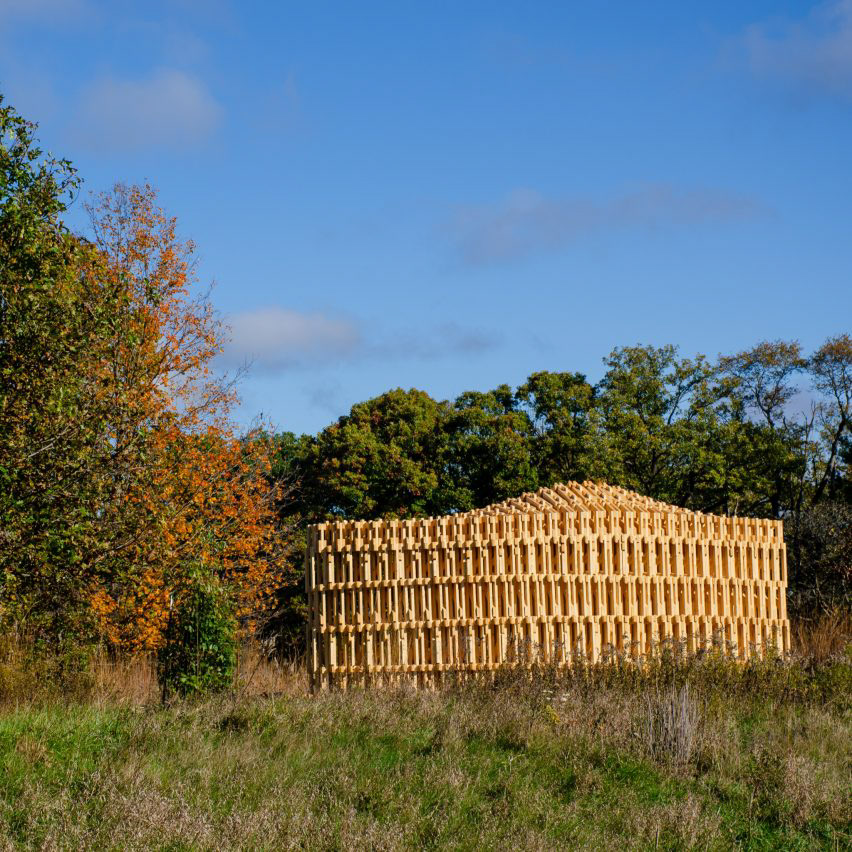 This course investigates a conceptual framework for the digital practice of [timber] architecture, which positions digital manufacturing as an integral part of the computational design process. In particular, this course places assembly—the act of putting together discrete elements (e.g., combining timber studs to form a timber frame wall)—as the main generative driver for computational design to bridge the gap between the act of design and the act of making. This conceptual framework requires breaking a building down into sub-assemblies and developing automated assembly procedures to manufacture them. The process requires the implementation of custom algorithms, representation schemes, and digital workflows beyond the built-in functionalities of commercial Computer-Aided Design (CAD) software programs to generate, store, and seamlessly transfer design data to automated assembly routines. Moreover, this process requires the development of custom tools (e.g., end-effectors) and robotic fabrication procedures to manufacture timber sub-assemblies.
Students work with two KUKA KR60 industrial robotic arms to construct a novel timber structure as a real-world case-study building. This case study will help explore the architectural potentials of robotic fabrication technologies and provide the means to rethink architectural production by implementing seamless digital design-to-fabrication chains. 
​​​​​​​